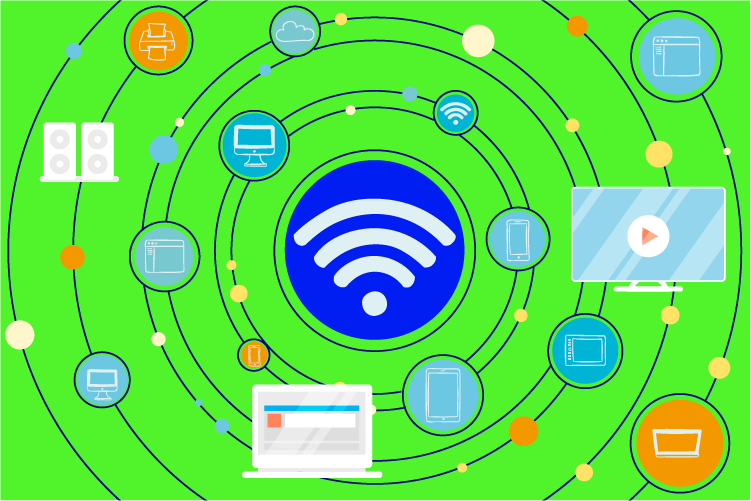 Wi-Fi is a local area wireless technology that allows an electronic device to connect to the internet.
The Wi-Fi Alliance defines Wi-Fi as any "wireless local area network (WLAN) products that are based on the Institute of Electrical and Electronics Engineers' (IEEE) 802.11 standards". However, since most modern WLANs are based on these standards, the term "Wi-Fi" is used in general English as a synonym for "WLAN". Only Wi-Fi products that complete Wi-Fi Alliance interoperability certification testing successfully may use the "Wi-Fi CERTIFIED" trademark.
Many devices use Wi-Fi, e.g., laptops, smartphones, smart watches , tablet computers and TV and each device will be certified with one of 802.11, like many of our connected devices will be Wi-Fi 6 certified. For example, since Apple iPhone 11 already supported Wi-Fi 6. The following tables show the standard of 802.11 breakdown and the device supported, speed and Release Year
| | | | |
| --- | --- | --- | --- |
| Wi-Fi | Device Supported | Speed Up to | Year Release |
| Wi-Fi 6 | 802.11ax | 9.6 Gbps | 2019 |
| Wi-Fi 5 | 802.11ac | 3.5 Gbps | 2014 |
| Wi-Fi 4 | 802.11n | 300 Mbps | 2009 |
| Wi-Fi 3 | 802.11g | 54 Mbps | 2003 |
| Wi-Fi 2 | 802.11a | 54 Mbps | 2001 |
| Wi-Fi 1 | 802.11b | 11 Mbps | 1999 |
wi-fi 6e
The Wi-Fi Alliance, a group of Wi-Fi platform vendors that work with the FCC and electronics manufacturers to set standards for Wi-Fi technology, announced the Wi-Fi 6E designation in 2020 for any IEEE 802.11ax products that support 6GHz wireless spectrum.
Early-adopter devices using Wi-Fi 6 (such as the first batch of Wi-Fi 6 Routers) are limited to the 2.4GHz and 5GHz spectrum, while Wi-Fi 6E-compliant devices will have access to all those 6GHz airwaves, this means Wi-Fi 6E enables faster speeds and lower latencies than Wi-Fi 6 and earlier iterations.
What's so different about Wi-Fi 6?
Each new Wi-Fi standard has significantly improved the most commonly referenced performance spec: speed. However, that's no longer how network performance is measured. Wi-Fi 6 was developed to deliver much higher capacity simultaneously to as many devices as possible. In other words, to ensure blazing fast speed in real-world environment increasingly defined by a surging density of connected devices. Networks today are sometimes asked to connect and manage thousands of clients, all using demanding applications, such as 4k video streaming and XR, and the end-user expects a seamless experience that the current standards don't deliver. Add to this the growth of IoT sensors and devices, and it becomes obvious that an increase in speed alone will not meet these new, complex demands.
Wi-Fi 6 executes on this promise by bringing increased capacity, optimized spectral efficiency, and increased throughput and coverage, all while reducing power consumption and latency across both 2.4GHz and 5GHz bands.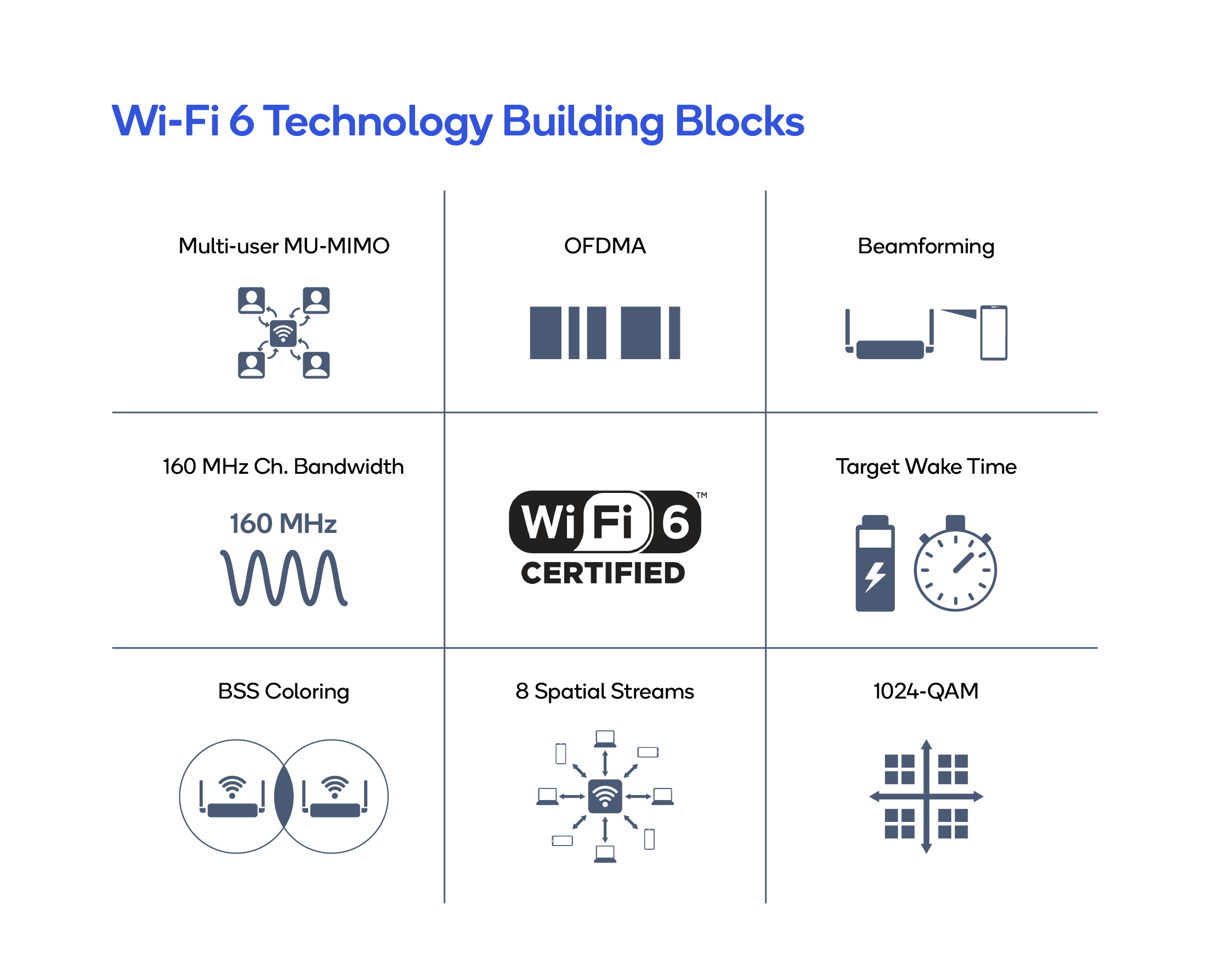 wi-fi 6 features:
Connect to More Devices Simultaneously
With MU-MIMO (Multi-User Multiple Input Multiple Output), multiple users can access the router simultaneously without any noticeable decreases in bandwidth quality– up to a point, and with Beamforming Improves data rates at a given range resulting in greater network capacity by directing signals toward specific clients instead of in every direction at once. This aids MU-MIMO, which isn't as efficient with rapidly moving devices.
Increased Efficiency with OFDMA, 1024-QAM (Quadrature Amplitude Modulation) and Eight Spatial Streams for the 5Ghz band
Wi-Fi 6 standard uses OFDMA (Orthogonal Frequency Division Multiple Access) for increased efficiency. Imagine your Wi-Fi connection as a series of delivery trucks delivering data packets to your devices. With 802.11ac Wi-Fi, each delivery truck or "packet" could only deliver one parcel to one device at a time. But with OFDMA, each truck can deliver multiple parcels to multiple devices simultaneously. This vast improvement in efficiency works for both uploads and downloads.
More Bandwidth on a Wider Channel 160 MHz Channel Width
Increases bandwidth to deliver greater performance with low latency.
Reduce power consumption With TWT
TWT (Target Wake Time) significantly improves battery life by allowing Wi-Fi 6 devices to negotiate when and how often they will wake up to send or receive data, conserving battery life.
Minimize Wi-Fi Conflicts with Your Neighbor
BSS (Basic Service Set) Colouring Improves reliability in very dense environments where there are overlapping access points (AP) by prioritizing – or coloring – traffic, and effectively shuts out and ignores traffic on the same frequencies that is likely communicating on another network.

Get Your Free Consultation
For More Information Enquire Now